| | | | |
| --- | --- | --- | --- |
| Scadenze gets Softpedia.com 100% adware free ticket! | | | |
This software product was tested in the Softpedia labs on: 21 October 2005

Softpedia guarantees that Scadenze Light 6.0.1.0 is 100% CLEAN, which means it does not contain any form of malware, including but not limited to: spyware, viruses, trojans and backdoors.
Click on the image below to get additional informations.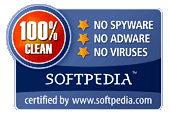 BlueSky software: Copyright 2005 by Romano Signorelli


Mambo
is Free Software released under the GNU/GPL License.
Copyright 2000 - 2005 Miro International Pty Ltd. All rights reserved.